Well Seasoned
Sadler's Wells celebrates work by Black dance artists in 2022 in Well Seasoned
Well Seasoned is an initiative designed to platform work by both UK-based and international Black artists. These performances, and our digital programme, represent some of the most exciting work from Black choreographers, dancers, and Artists of Colour. Drawing from international work, the incredible cultural melting pot of London, and reflecting the African diaspora, Sadler's Wells invites you to join the celebration. Look our for special Well Seasoned events, talks, exhibitions, additional digital content including performances, podcasts and online documentaries later in the Spring.
Introduction by Sir Alistair Spalding, Artistic Director and Chief Executive of Sadler's Wells
Talent is everywhere but opportunity is not
AMANDA BERRY, CEO BAFTA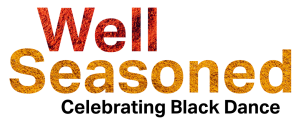 During the pandemic Sadler's Wells has been reflecting hard on how we can redouble our efforts to celebrate Black dance talent, and more widely work from Artists of Colour – and continue to bring a real diversity of work to our stages. We will continue to appeal and delight the widest audience, from all communities, as the world resets after the turbulent events of the last two years.
So under our Well Seasoned banner we are highlighting work from international companies and choreographers from Artists of Colour and showing the vigour of our commitment to representing and investing in the vibrant talent across the UK and internationally. As our regular audiences and collaborators know, this has been a strong thread in our work for decades – but now we want to scale up our ambitions. And get your attention.
We are starting 2022 with a bold statement of intent, and we are shining a light on just some of the work we champion in this field. It's not pretending to be a full survey. It doesn't cover all bases. It's evolving as our team build relationships with artists in this field. What we can say is that it is a great way to enjoy brilliant, diverse work – hip hop, ballroom, contemporary dance – and see the connections and contrasts.
The next couple of years are really exciting as we open our venue in Stratford, Sadler's Wells East, launch the Hip Hop Theatre Academy, and broaden our base of artistic advisors who will bring new programming from non-European traditions. With a midscale venue added to Sadler's Wells, Peacock Theatre and our Lilian Baylis Studio we will have more opportunities than ever to mix up and strengthen our programming, bringing in an even wider range of artists for our audience to enjoy.
Well Seasoned is another stage on this journey, and a fresh starting point, but our commitment is only getting going. Join us, explore, celebrate, and enjoy.
Sir Alistair Spalding
Artistic Director and Chief Executive, Sadler's Wells
Sir Alistair Spalding
Artistic Director and Chief Executive of Sadler's Wells
Jonzi D
Artistic Director of Breakin' Convention
The artists involved have chosen to be part of the initiative, which was devised by Sadler's Wells' Artistic Director and Chief Executive Sir Alistair Spalding and Artistic Director of Breakin' Convention Jonzi D, to place a focus on dance created by Black artists.
We wanted to highlight dance made by Black artists this year to bring their work to wider audiences and celebrate the hugely important contribution Black artists make to the dance ecology. It is by no means fully representative of all the fantastic work being made, but the selection of works in Well Seasoned gives a taste of the wonderful variety of dance being created by Black artists in the UK and beyond.SIR ALISTAIR SPALDING, ARTISTIC DIRECTOR AND CHIEF EXECUTIVE
Well Seasoned is a flava full celebration of work from the African diaspora and beyond. As a statement of intent, we want to present the artistic diversity of People of Colour, particularly from the Black community. Our programme will reflect London's cultural melting pot. A nourishing blend of local and global dance theatre makers, presenting work that is vibrant, challenging and delicious!JONZI D, ARTISTIC DIRECTOR OF BREAKIN' CONVENTION
It's great to see Sadler's Wells upholding its promise to platforming and championing more artists of colour in their programming, it finally reflects the breadth of ideas and artists in the UK and beyond! The artists featured as part of Well Seasoned, are not just change makers of colour but they are change makers full stop! We've still got a way to go, but Well Seasoned is certainly a huge acknowledgement in the need for inclusivity and better visibility.BOTIS SEVA, LONDON-BASED CHOREOGRAPHER
The Well-Seasoned programme acknowledges the existence of minority groups in the real world, influencing societies openness and understanding of others which makes for a better world for all. The Peacock Theatre is where I made my debut in the West End with Burn the Floor. I cried when I found out that this township boy was going to be debuting his own show there.JOHANNES RABEDE, DANCER & CHOREOGRAPHER
Shining a light on Black Dance Artists allows new audiences to experience their work. It also acts as a much-needed voice in theatre when sharing opportunities can be limited for Black creatives.L'ATISSE RHODEN, SADLER'S WELLS NEW WAVE ASSOCIATE
Wild Card: Akeim Toussaint Buck
Radical Visions
20 & 21 January 2022
Curated by Akeim Toussain Buck, this evening celebrates artists who work with themes of social change and diasporic identity.
Wild Card: Akeim Toussaint Buck
Acosta Danza
100% Cuban
9 – 13 February 2022
Carlos Acosta's acclaimed Cuban company returns with a programme of five new and existing exceptional works.
Acosta Danza
Ivan Michael Blackstock
TRAPLORD
26 March – 16 April 2022
Ivan Michael Blackstock presents TRAPLORD, an immersive dance performance meditating on life, death and rebirth.
Ivan Michael Blackstock
Phoenix Dance Theatre
40 Years of Phoenix
29 – 30 March 2022
Phoenix Dance Theatre present an exciting birthday programme to celebrate their milestone 40th birthday.
Phoenix Dance Theatre
Johannes Radebe
Freedom
1 – 2 April 2022
Johannes Radebe premieres his debut tour with classic dance arrangements, scorching South African rhythms and huge party anthems.
Johannes Radebe
Spoken Movement
Family Honour
12 & 13 April 2022
A young girl, bound by the demands of tradition, religion and family, confronts her past rebellion against these pressures.
On-sale date to be announced.
Breakin' Convention
Breakin' Convention 2022
30 April – 1 May 2022
Sadler's Wells' annual festival of hip hop dance theatre is back for its 19th year, platforming cutting-edge dance rooted in the streets.
On-sale date to be announced.
Matsena Productions / House of Absolute
Shades of Blue / Warrior Queens
6 – 7 May 2022
Experience the newest leading London choreographers in this double bill which touches on a social movement and cultural heritage.
On-sale date to be announced.
L'atisse Rhoden
L CASA
19 – 20 May 2022
Experience a night of yet unseen digital works and immersive pop-ups created by Sadler's Wells New Wave Associate L'atisse Rhoden.
On-sale date to be announced.
Impact Dance / Hakeem Onibudo
25 June 2022
In a night of bite-sized extracts of excellence inspired by hip hop culture, Impact Dance perform alongside 10 stand-out companies and artists.
On-sale date to be announced.
Alesandra Seutin / NYDC
2 – 3 September 2022
National Youth Dance Company (NYDC) once again collaborates with internationally renowned choreographer Alesandra Seutin.
On-sale date to be announced.