Rambert

Rouge (excerpt)
Sadler's Wells & BBC Arts present Dancing Nation
Rouge (excerpt)
Rambert
Choreography: Marion Motin
Marion Motin's hip hop-influenced style is best known through her work for Christine and the Queens and Dua Lipa's IDGAF music video.
Rambert's Artistic Director Benoit Swan Pouffer invited Marion to create her first work for a contemporary company and in 2019 Rouge was premiered at Sadler's Wells. The result is fresh and bold, with four-to-the floor beats, tight unison bodies and glorious costumes.
When your building is burning in the middle of the night, what do you take with you? How does it help you to keep going?
Watch other dance works from Sadler's Wells and BBC Arts' acclaimed Dancing Nation series here
Rouge is pure escapism as Rambert dancers embody Marion Motin's hip-hop influenced style. Sweaty and bathed in pink light, they evoke a nightclub-esque atmosphere, as they strut across the stage to pulsating electronic beats.
★★★★ The Stage
Credits
Choreographer – Marion Motin
Music – Micka Luna
Costume Design – Yann Seabra
Lighting Design – Judith Leray
Dancers – Daniel Davidson, Guillaume Quéau, Juan Gil, Liam Francis, Miguel Altunaga, Nancy Nerantzi, Simone Damberg Würtz
Guitarist – Rubén Martinez

More from Dancing Nation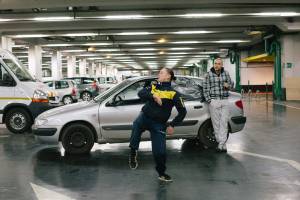 Hope Hunt – Oona Doherty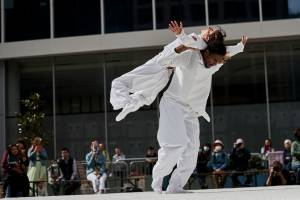 SPHERA (excerpt) – HUMANHOOD