BLKDOG (excerpt)

Far From The Norm
Sadler's Wells & BBC Arts present Dancing Nation
BLKDOG (excerpt)
Far From The Norm
Choreography: Botis Seva
Commissioned by Sadler's Wells to celebrate the twentieth anniversary of its current theatre (October 2018), Botis Seva's BLKDOG went on to win the Olivier Award for Best New Dance Production. A genre-defying blend of hip-hop dance, this work is a haunting commentary on surviving adulthood as a childlike artist.
Watch other dance works from Sadler's Wells and BBC Arts' acclaimed Dancing Nation series here.
And a piece of "BLKDOG," a 2018 effort by Far From the Norm, is enough to establish its choreographer, Botis Seva, as a major new talent. Hooded figures sit, shake, run, fall. When they cover ground quickly in a squat, knees pistoning, feet scurrying like a ballerina's in bourrées, it's the most piercing moment of dance action in the whole festival.
The New York Times
Credits
Choreographer – Botis Seva
Creative Producer – Far From The Norm – Lee Griffiths
Music Composer – Torben Lars Sylvest
Lighting Designer – Tom Visser
Costume Designer – Ryan Dawson Laight
Dancers Far From The Norm – Victoria Shulungu, Hayleigh Sellors, Jordan Douglas, Joshua Nash, Shangomola Edunjobi, Ezra Owen

More from Dancing Nation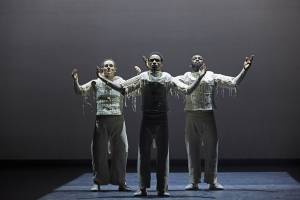 Whyte from Black Whyte Grey – Boy Blue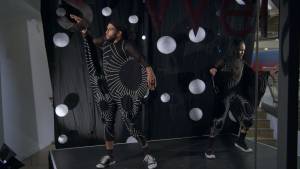 Window Shopping – Breakin' Convention