Boy Blue

Whyte (excerpt)

from Blak Whyte Gray
Sadler's Wells & BBC Arts present Dancing Nation
Whyte (excerpt)
from Blak Whyte Gray
Boy Blue
Choreography: Kenrick 'H2O' Sandy and Michael 'Mikey J' Asante
The time is right to ask questions, to break free from a system that isn't working, to emerge on the other side to an awakening – a return to roots, a celebration of culture.
Internationally acclaimed hip hop dance company Boy Blue bring one section of their Olivier-Award nominated work, Blak Whyte Gray. This fierce, bold and galvanising dance work, set to a multilayered electronic score, reflects themes of identity, oppression and transcendence. The powerful choreography and staging make for an image-rich production with political bite.
Watch other dance works from Sadler's Wells and BBC Arts' acclaimed Dancing Nation series here.
Credits
Conception and Creative Direction – Michael 'Mikey J' Asante
Directed by – Kenrick 'H2O' Sandy and Michael 'Mikey J' Asante
Choreography – Kenrick 'H2O' Sandy
Music – Michael 'Mikey J' Asante
Lighting Design – Lee Curran
Costume Design – Ryan Dawson Laight
Whyte Performed by – Ricardo Da Silva, Gemma Kay Hoddy, Dickson Mbi
Technical Production Manager – Andy Downie
Company Stage Manager – Penny Foxley
Rehearsal Director – Nathaniel Impraim Jones
Deputy Stage Manager – Carly Hook
Lighting Manager – Lucy Hansom
Sound Manager – Mark Webber
Make Up Designer – Melodie Briere
Associate Costume Designer – Kingsley Hall
Wardrobe Supervisor – Lydia Cawson
Costume Makers – Katey Adeny, Jordan Edwards, Lou Petty, Elliot Squire
Original Producer – Phillip Burton
With thanks to Nicole McDowall, Jordan Franklin and Clancy Flynn.

More from Dancing Nation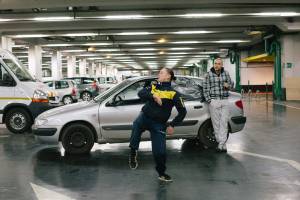 Hope Hunt – Oona Doherty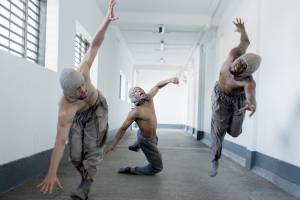 BLKDOG (excerpt) – Far From The Norm