Curated by Breakin' Convention

Window Shopping
Sadler's Wells & BBC Arts present Dancing Nation
Window Shopping
Curated by Breakin' Convention
Starting from the outside looking in, popping, voguing, flamenco and ballet dancers welcome you into the building. An introduction to the diverse nature of the Sadler's Wells experience.
Watch other dance works from Sadler's Wells and BBC Arts' acclaimed Dancing Nation series here.
Dance meets architecture as the hip-hop artists perform their emphatic and thrilling moves.
★★★★ The Times 
Credits
Dancers – Brooke Milliner, Jonadette Carpio, Noemí Luz, Magdalena Mannion, Mukeni Nel, Michael Oladele, Faye Stoeser, Hannah Kohlm
Costume Designers – Juliet Dodson, Cara Edden, Sara Nogueira
Set Designer – Katharine Nixon
Makeup Artists – Abbie Miklosz, Alice Platts, Amy Welch, Laura Kilby, Frankie Gavriel, Sabika Asif
Music – Michael 'Mikey J' Asante, Son de la Frontera, Brooke Miliner

More from Dancing Nation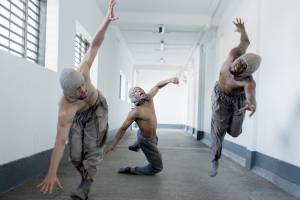 BLKDOG (excerpt) – Far From The Norm