Candoco

Face In (excerpt)
Sadler's Wells & BBC Arts present Dancing Nation
Face In (excerpt)
Candoco Dance Company
Choreography: Yasmeen Godder
A sensual and disturbing ode to intimacy and imagination, expressed through striking images interwoven with daring and uninhibited dance.
Set to an urban indie score, this contemporary dance piece invites the audience to bask in this wild fictional world that feels uncomfortably familiar yet strangely distorted. A world that the dancers inhabit with ease: dancing with pleasure, revealing the extreme of themselves and flirting with both the banal and the ridiculous.
Watch other dance works from Sadler's Wells and BBC Arts' acclaimed Dancing Nation series here.
Credits
Concept, Choreography & Direction – Yasmeen Godder
Dramaturg – Itzik Giuli
Set Design – Gareth Green
Lighting Design – Seth Rook Williams
Costume Design – Adam Kalderon
Sound Edit – Nathan Johnson
Dancers – Megan Armishaw, Ben Ash, Toke Broni Strandby, Joel Brown, Mickaella Dantas, Olivia Edgington, Anna Seymour
Music
Away From My Body – Performed by Brandt Brauer Frick and Beaver Sheppard, written by Jonathan Edward Sheppard © published by !K7 Publishing GmbH, administered by Kobalt Music Publishing Limited (P) 2016 K7! Records under exclusive license to Because Music, courtesy of Because Music
Pretend (live at Concertgebouw Brugge) – The Brandt Brauer Frick Ensemble feat. Emika, recorded live at Concertgebouw/Kamermuziekzaal Brugge on May 6th 2011 (P) 2011 Courtesy of K7 Records

More from Dancing Nation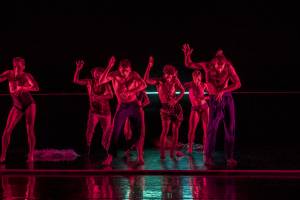 Rouge (excerpt) – Rambert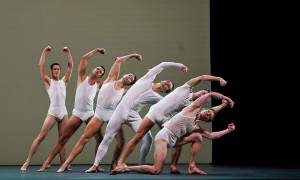 Spitfire – an advertisement divertissement –
New Adventures