Birmingham Royal Ballet

Lazuli Sky (excerpt)
Sadler's Wells & BBC Arts present Dancing Nation
Lazuli Sky
Birmingham Royal Ballet
Choreography: Will Tuckett
Lazuli Sky is a hopeful and regenerative ballet created in 2020 by Will Tuckett.
During lockdown, without the distractions of normal everyday living, the creative team were drawn to the open clarity of the sky, wind-shaped landscapes and birdsong.
The title, Lazuli Sky, is inspired by the deep, speckled blue of lapis lazuli, the base for one the most precious and expensive colours in a Renaissance painter's palette, which was used to create the clear blue skies so familiar in the paintings of Leonardo da Vinci.
The ballet was premiered and filmed at Birmingham Repertory Theatre, with further performances at Sadler's Wells in October 2020, in front of a socially distanced audience.
Watch other dance works from Sadler's Wells and BBC Arts' acclaimed Dancing Nation series here.
 A tantalising excerpt from Will Tuckett's elegant and dreamy Lazuli Sky, an uplifting classical creation (set to music by John Adams) performed by a fine Birmingham Royal Ballet.
★★★★ The Times
Credits
Choreographer – Will Tuckett
Design – Samuel Wyer, Nina Dunn
Video Design – Nina Dunn
Costume Design – Samuel Wyer
Lighting – Peter Teige
Sound Design – Yvonne Gilbert
Cast – Damen Axtens, Laura Day, Karla Doorbar, Ryan Felix, Haoliang Feng, Kit Holder, Yu Kurihara, Gus Payne, Emma Price, Tom Rogers, Eilis Small, Yuki Sugiura
Members of the Royal Ballet Sinfonia – Robert Gibbs (Leader), Vanessa David (First Violin), Mary Martin (Second Violin), Errika Horsley (Viola), Antonio Novais (Cello), Jane Rainey (Cello), Vera Pereira (Bass)
Conductor – Paul Murphy
Music
Shaker Loops, composed by John Adams, published by Chester Music Limited

More from Dancing Nation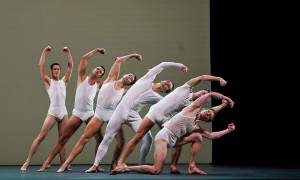 Spitfire – an advertisement divertissement – New Adventures