Northern Ballet

States of Mind (excerpt)
Sadler's Wells & BBC Arts present Dancing Nation
States of Mind (excerpt)
Northern Ballet
Choreography: Kenneth Tindall
Inspired by a collection of thoughts, feelings and news headlines from lockdown, this new work is an abstract response through movement to a selection of situations experienced during recent months.
Premiered at Leeds Playhouse in October 2020, States of Mind is the latest creation of Kenneth Tindall, choreographer of Northern Ballet's Casanova, The Shape of Sound, Geisha and multi-award-winning dance film EGO.
Watch other dance works from Sadler's Wells and BBC Arts' acclaimed Dancing Nation series here.
Credits
Choreography, Concept and Film Direction – Kenneth Tindall
Assistant – Christelle Horna
Narrator – Hugh Bonneville
Words – Ian Kelly
Sound Design – Neill Rigg
Costume Design – Hannah Bateman
Dancers – Antoinette Brooks-Daw, Sarah Chun, Minju Kang, Kyungka Kwak, Ayami Miyata, Abigail Prudames, Sean Bates, Riku Ito, Gavin McCaig, Kevin Poeung, Joseph Taylor, Matthew Topliss, Lorenzo Trossello
Music
Rainbow Concerto: I. Slow Movement by Jacob Ter Veldhuis, Jacob TV, Rainbow, Basta Music
I.Prélude, Yo-Yo Ma (Cello), courtesy of (P) 1983 Sony Music Entertainment, licensed by Sony Music Entertainment UK Limited
Presto [Sonata for Violin Solo No. 1 in G Minor, BWV 1001], performed by Hilary Hahn, composed by Johann Sebastian Bach, courtesy of Decca Classics, under license from Universal Music Operations Ltd.

More from Dancing Nation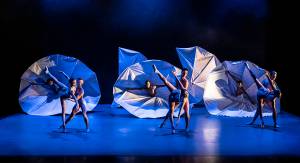 Lazuli Sky (excerpt) – Birmingham Royal Ballet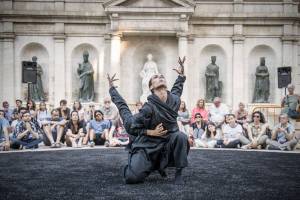 Orbis (excerpt) – HUMANHOOD